How does it work?
Over three sessions, you will receive personalised support from a trained Violet Guide, who has walked a similar path and understands what you're going through.
All sessions are delivered over the phone at a time that suits you best;
The program runs over 3 phone sessions, with the option to continue;
All sessions are 1:1 and you will work with the same Guide throughout all your sessions;
You will receive emotional and practical support that is personalised to your needs;
All Violet Guides are fully trained and have cared for a loved one;
All calls are 100% confidential.
What can I talk about on a call?
"On the initial call my emphasis is always on understanding the current situation. So I'll ask the carer about what's happening for them," says Rose Dillion, who is a Violet Guide, and who also cared for 3 family members over 2 years. Once you and your Guide have a sense of where you're at, your sessions will be personalised to your needs.
The most important thing to know is that this is a judgement-free space, held for you by a fully trained Guide who has a sense of the journey you're on - because they've been there too.
In this video, Rose talks more about what you can expect on your calls.
How will a Violet Guide have any idea about what I'm going through?
Every Violet Guide has cared for a loved one who is dying. Some Guides have cared for multiple family members. And while every caregiving journey is unique, talking to someone who has some sense of what it's like can transform everything - for the better.
We call this personal wisdom. And our Guides add to this a skillset and mindset they are taught through our training program. Dr Renee Lim, and members of our clinical committee have crafted this training program based on a communications framework out of the UK by an organisation called Real Talk.
This mix of personal and professional wisdom ensures you have a safe, judgement-free and effective space to call into for each of you sessions.
I barely have time for a cup of tea, how can I make time for this?
It's not uncommon to feel as though you've given every last bit of energy you have to your loved one, with nothing left for yourself. However, we also know the transformative effect the right support can have on your situation; it can help you build resilience, be more present with your loved one and help you broach complex, but important conversations. Here's just one way support can help, from Jessica, who completed all 3 support sessions with a Violet Guide: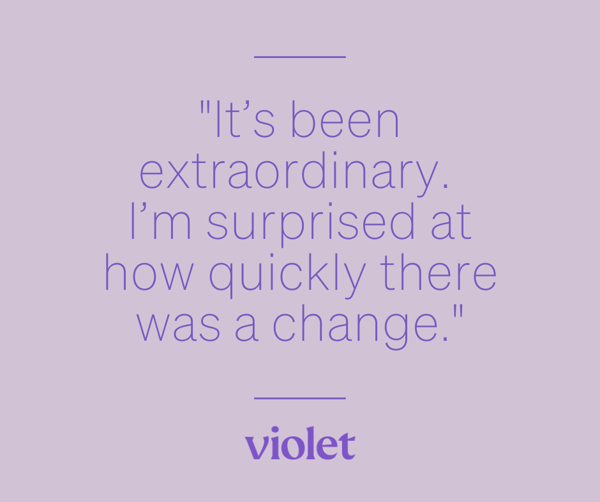 Calls are pre-arranged and confirmed via text so you can schedule them at a time that best suits your situation - and make changes as needed. Caring is often an around-the-clock job, with few breaks and we understand how difficult it can be to take time for yourself. But if you're interested in getting support, reach out to us via our enquiry form and we will work with you to make sure the calls fit into your life - no matter how unpredictable it can be.
Can I have more than three calls?
Yes! We have many people who have chosen to keep speaking with their Guide. Subsequent sessions are still free, 1:1 and led by the same Guide you've been working with.
Does talking to a Violet Guide actually help?
Janet, 59, cared for her ex-husband Ian over nine years. Here she talks a little about her experience with a Violet Guide:
"I learned about the Violet Initiative when I was accessing super funds for Ian. Talking to a Violet Guide really did change my life. At that time, things were moving very quickly, and I wasn't getting much respite. I was tired. I'd given so much to everyone else that I hadn't thought of me. Getting support from a Violet Guide helped me check in with how I felt.
"My Violet Guide helped me look at my own thought processes and see what I had left to do, because the end of Ian's life was coming. This helped make me a better caregiver, so it was a relief for me.
She was caring and compassionate and knew what I was going through. The opportunity to talk separately without feeling like I was burdening my family was a relief because it's such a delicate, fragile time. I felt the weight of the world was taken off my shoulders."
What is the role of a Violet Guide?
Wendy Stocks, Violet's Guide Practice Manger explains how a Guide can help you.
How is the program free?
Violet is a not-for-profit organisation that is funded through corporate and philanthropic partnerships that allow us to keep our services free. We have been supporting Australians for over 30 years thanks to the generosity of many organisations.