Violet is delighted to announce that the Board has appointed Andrew Macpherson as new Chair. Andrew's appointment follows Sally Evans' prior announcement that she would step down as Chair at the AGM in November.
Sally Evans chaired the Violet board for nine decisive years, and helped shape the organisation in its transformational phase from community charity to social enterprise. The Board and CEO would like to whole-heartedly thank Sally for her unwavering commitment, leadership & stewardship to Violet's mission through this time. Sally's role & contribution marks an important chapter in the evolution of LifeCircle, and we wish her the very best with her future endeavours.
Andrew Macpherson is an experienced senior executive with strong interests, and specific experience in the use of technology to transform traditional businesses. Andrew worked with global consulting firm Accenture for 27 years, specialising in implementing complex technology-enabled change projects to large enterprises and government in Australia, Asia and Europe. He retired as APAC Regional Managing Director - Technology in 2005.
Over the following 13 years he has been actively involved as an investor, director and executive in the agribusiness, retail, hospitality and services sectors. Andrew's board experience includes ARQ Group Ltd (ASX: ARQ), Ruralco Holdings Limited (ASX: RHL), OneVue Holdings Limited (ASX:OVH), WorkVentures Ltd (Chair), SIRCA Ltd (Chair) and Rozetta Technologies Pty Ltd (Chair).

Andrew's experience in leading business transformations, technology and change, and his depth of expertise as a Non-Executive Director will add great value as Violet enters the next phase of our strategy, driving traction and impact, and scaling Violet's solution to help people and organisations who care for people in the last stages of life.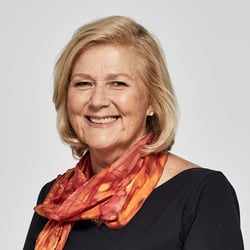 Sally Evans Andrew Macpherson
Violet is a national social enterprise with the mission of changing the experience of end-of-life in Australia, leveraging 30 years of community-based experience through partnerships and technology.
With Violet's help, families are better prepared and supported, more able to make the right decisions for their circumstances, and to make the most of their time together.
Organisations improve their customer and employee experience, and achieve health, wellbeing and business benefits.
Violet's help is anchored in the final stage of life which we call 'accompaniment'. This is the stage where someone is sick enough, or frail enough, that they might die. We address key pressure points through the experience: at moments of significant health changes, in the most important conversations, and the last weeks and days of a person's life.
LifeCircle is building the single source of information and support for community and industry when caring for someone in the last stages of life. We believe that the end of life may never be easy - but it absolutely can be better.
"We need the courage to promote a discussion
about a subject that we might dislike but cannot avoid."

Grattan Institute Report – Dying Well 2014